The Birthday of HRH Princess Faith!
7 December 2005
2 Comments
Hey All,
Ok. The past 2 weeks have been super busy. And the following 3 will be too. So i will do a super joint post later. For now, i decided to "Syndicate" this post from SWEE , my dearest Sis-in-law- SWEET MOUNTAIN, who btw is a great Pastry CHEF in the making. For orders, please go to http://swee.blogdrive.com For those who dont know HRH Princess Faith, she is my daughter who just turned 1 on the 3rd of December:)
Faith's Birthday
ok.. Faith's my niece. and she had a birthday party at home last friday. i know, my entry came in quite late but er.. better late than never.
mostly photos i guess.the preperations started quite early, like a few days back, we need to prepare the goodie bags for the people (mainly kids) that come, and the deco stuffs, and of course i was busy figuring out… How to Make the Magical Toadstool (the cake)
Day 1
we went hunting for candies, chocolates to put into the goodie bags. and also, the rounded bowl mould for the cake. and some party decos.. yeah..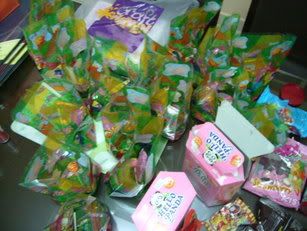 i tried to make the cake as well, just incase it doesnt turn out, we still have time to buy one.. hahawell it REALLY DIDNT TURN OUT ! wth.. the top was soft n … i dont know.. it's small, the whole cake is small.. so i thought that maybe i should do again the next day.. since it's already like.. late at night..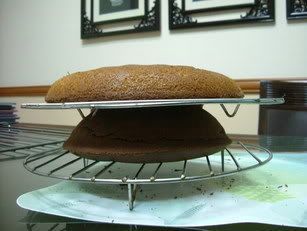 cacat right ?
Day 2
ok so… i went to buy the mould and then.. started baking quite late in the evening. and then the tent was here, the tables too. so we bought some balloons to decorate it. my god!! to tie the balloons, is a torture.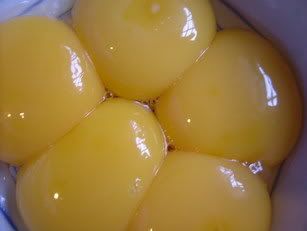 because the top part of the cake failed, i had to use another recipe.
and .. TADA !!! guess what.. it turned out well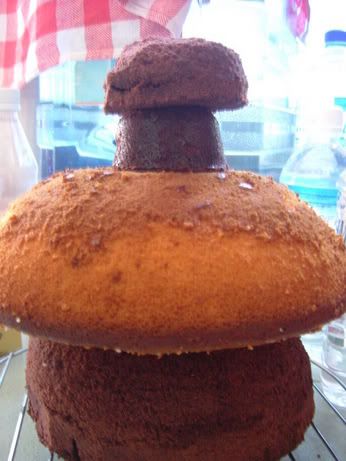 cute tak ?!?! hahahaha the small mushroom .. is NOT on top lah…
so i junk them into the frige and.. wait.. for tomorrow!
Day 3
*cut things short, i did not take the pic while i was icing the cake because, it took me some time to do it.. and it's not easy leh… and … my hands were covered with cream edi…*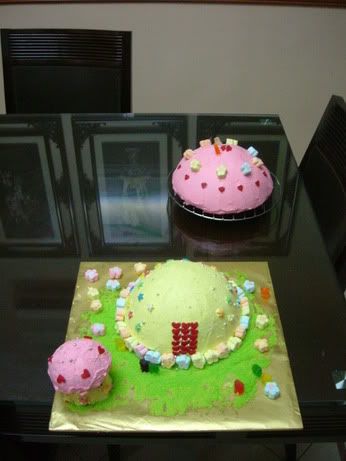 tada… the finished cake.. oh well, except that the top part is not 'fixed' yet…but..
CUTE RIGHT ?!?!?! hahah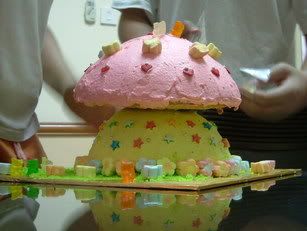 ok la, might not be the 'neatest' cake u've seen but er.. this is my first dont-look-like-cake type of cake u know!! (get what i mean?)i did the icing on friday afternoon right after i come back from college.. and slept at 5-9 the day before.. so am quite exhausted actually.. i wanted to take a nap after i finish the cake.. but the cake took me quite some time, and after i'm done with the cake, i had to pump some balloons.. after the balloons are done, the caterer came… after the food's set up .. the people started to come…. WHERE LA GOT TIME TO NAP !?!?
so… people started to flock in .. busy busy busy…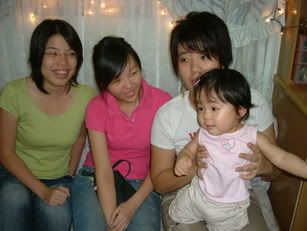 i dont know what we were looking at actuallyl.. hahaha… i just adore her STUNNED face!! rofl
look at her expression again.. does she look like she's … conducting a meeting.. discussing something important ?? look at her hands.. hahaha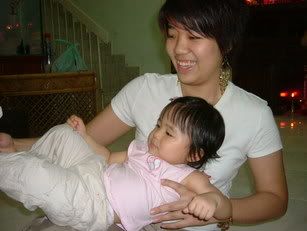 then.. she does some kungfu poses.. hahaha… actually she was trying to take of her shoe and she kinda like lied down.. but Mel didnt take the shoes.. so.. lets just assume, she attempted to fly or something..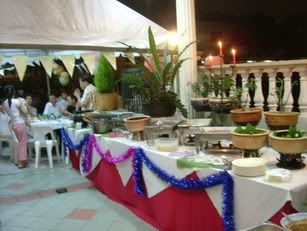 the caterer was Banana Cafe.. er, i'm not really sure, but it's said to be.. somehow related to Zang Toi.. they did some nice deco with the leaves and all.. but the blue pink bulu-bulu thingy are ours lah.. haha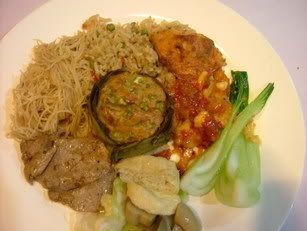 and how can u not see any food!!! clockwise from top: fried rice, spicy chicken, sweet n sour fish, vege, tofu n mushroom, lamb and beehoon siam and the middle one is, otak otak. the food's quite nice.. not that bad.. haha, and there were like 2 waiters there to collect the dirty plates, or refill the drinks, so, that basically made our lifes easier.. hahaha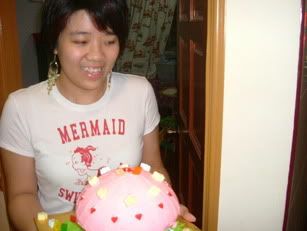 it was time to bring out the cake.. my god, i was like so nervous lah.. (that the cake will fall)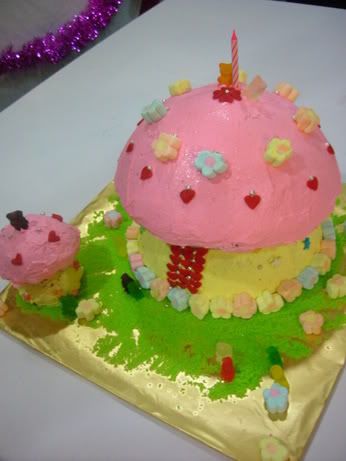 HAHAHA… nice or not ?!?!?!?! hahahahahahah so happy lah!!the journey from the fridge to the porch (outside) was filled with wooh wooh waah waah.. all i coud hear was"WAH so nice ah the cake""WAH who make wan?"
"WAH ah san make wan ah?"
"WAH so keng ah"
"WAH WAH WAH"
i couldnt stop wah-ing at it too.. ok la, it's not as pretty looking as it is in the book, but… still…. my mum said
"this 30 years (her marriage years) ah, no one has ever made birthday cake for anyone in the family, now this faith has custom made cake ah… so good ah…"
(sei loh, i think my mum is hinting me to make every other occasions' cakes…)
AND THEN !!!!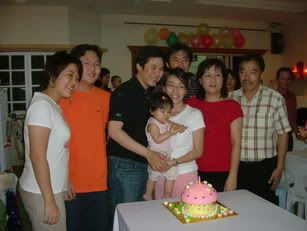 family pic..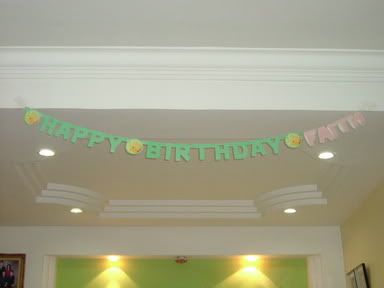 the banner.. sort of.. hahahahapheuh… finally.. it's done.. i have heaps more photos,
but they;re at my mutiply..
Best regards,
Kid Chan, WPJA
" the most sought-after wedding photographer in Malaysia" -NST
P.S:Have you visited http://www.kidchanstudio.com @ Bangsaria?

No related posts.